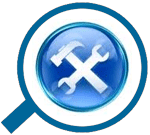 Search Engine Tools

Keyword Tools:
See how many monthly searches are made on keywords related to your business:
Google Keyword Tool
Yahoo Keyword Tool


Rankings Tools:
See where you rank on given keywords on each search engine:
Google Rankings
Yahoo Rankings
MSN Rankings


MIsc. Tools:
Link Popularity See how many sites are linking to yours on Google.Yahoo, MSN and others.
PR Check: See what your Google PageRank is




Advertiser & Publisher Tools:
Below are services you can use either as a publisher looking to menetize your site or as an advertiser looking to increase traffic and conversions on your site.
Yahoo! Sponsored Search
Advertisers: Advertise on the largest internet network and one of the premiere search engines. Signup and get a $25 credit.
CitySearch
Advertisers: The premier local search engine program. Join today and gain excellent local targeted traffic.

Miva

Advertisers: Formerly Findwhat, Miva ranks as the leading search advertising program of the tier 2 programs..
Enhance Interactive

Advertisers: Another PPC search engine program to help increase traffic. Formerly Ah-ha.

Search123
Advertisers: Another PPC program to give your traffic a boost through the search engines.

Excite.com
Advertisers: paid inclusion on Excite.com. Get listed without the hassle of other bidders.

Clicksor
Publishers: Earn 70% profit share from displaying contextual ads
Advertisers: Serves over 320 million impressions each month by partnering with over 10,000 specialized websites. Your ad listings will instantly appear in our affiliated websites that have related contents to your product or service.
Mamma

Publishers: Add Search Engine functionality to your site and get paid each time someone makes a search
Advertisers: increase qualified traffic by advertising on Mamma, a combination of popular search engine results with Mamma premiere ads.

SearchFeed
Publishers: monetize your site by adding text links or search engine feeds to your site.
Advertisers: If you already advertise on Google and Yahoo you should consider SearchFeed, one of the premiere Tier 2 search programs.
AdSonar
Publishers: Add text ads to your site to generate revenue.
Advertisers: get your site included on one of the better content delivery systems around.